Fort Jesus
Located at the end of Nkrumah Road in Mombasa CBD, Fort Jesus is a famous tourist attraction in Mombasa and is also a UNESCO World Heritage Site. The eye-catching structure immediately ushers you into history as you begin to explore the massive fort that was built by the Portuguese in 1593-1596; it was designed by famous Milanese architect Giovanni Battista Cairati, a well respected architect by the Portuguese.
The 16th Century days are reminiscent whenever you set foot in this huge structure that preserves the history of the Portuguese, Arabs and British, all who at one time were in control of Fort Jesus.  The ruined buildings, weaponry and a museum are some of the must see places while you're touring the port. There is small fee you need to pay to the National Museums of Kenya at the entrance.
If you want a deeper tour and understanding of the Fort's history, you can hire a guide; they're usually outside the gate and will come to you asking if you need help.  We shall have a future dedicated post on Fort Jesus with exclusive photos and first- hand account travel experiences.
Haller Park
If you're an animal and nature lover; you shouldn't leave Mombasa without coming to Haller Park. The park is located approximately 10km from the CBD on the road to Mtwapa and was formerly known as Bamburi Nature Trail. This exciting park is highly rated as one of the best Mombasa tourist attractions. The park was initially a limestone quarry but thanks to the efforts of Dr. René Haller, the abandoned limestone quarry was transformed into a nature haven with different tree species, a wildlife park, hundreds of bird species as well as walking and cycling parks.
Haller Park is famous for picnics and a lot of Mombasa residents come here on weekends to spend some time with nature. A lot of tourists both domestic and foreign flock to this family friendly park. Wildlife here includes zebras, giraffes, waterbucks, hippos and Cape buffalo. Giraffe feeding is a popular attraction for guests coming here.
There is also a butterfly pavilion you can't afford to miss while here. If you're using public transport, take Mtwapa or Bamburi matatus from Digo Road in the CBD. You can also use a private car or tuktuk; a small entrance fee is charged at the gate.
Mombasa Marine Park
Watching the sea below and seeing the diverse and beautiful marine life is the wish of every traveler who comes to see exotic Mombasa tourist attractions. Located on the North Coast on Bamburi beach is Mombasa Marine Park. Diving and snorkeling are some of the exciting activities you can engage in as well as get the chance to see a wide variety of marine creatures that are found in the park.
While here, you can see Mombasa's wreck MV Dania as well as hire a glass bottom boat to explore the park. You can easily get to the Marine Park from any of Mombasa north coast beaches; Bamburi, Shanzu and Diani.
Mombasa Beaches
The beaches in Mombasa rank amongst top Mombasa tourist attractions. Everyone who comes to Mombasa is keen on one thing; to enjoy a first-hand experience of seeing the beautiful waters of the Indian Ocean, relaxing on the white sandy beaches and participating in a host of beach activities.
You can choose to visit North Coast beaches or South Coast beaches. North Coast beaches are accessed using Nyali bridge while the South Coast is accessed via Likoni ferry. Come and be part of a unique Mombasa experience you'll live to remember.
Elephant Tusks, Moi Avenue
Even those who haven't been to Mombasa know about the giant tusks that sit on Moi Avenue, a major street in the central business district. Built to commemorate the visit by Queen Elizabeth to Mombasa, the aluminum tusks sit on both sides of the dual carriageway and symbolically take the shape of an "M" that stands for Mombasa.
They're huge and therefore quite visible once you're on the street. Uhuru Gardens is a quiet park located adjacent to the tusks where you can relax after visiting the tusks; it's the perfect spot to relax after a tour of  Mombasa town.
Mamba Village
Situated on Links road in Nyali, Mamba Village is a large crocodile farm; the largest in East Africa where you can come and indulge yourself in plenty of fun activities as you learn more about crocodiles. Feeding time is especially thrilling as you watch them jump high to grab food.
Being one of the famous Mombasa tourist attractions, Mamba village receives a lot of guests; weekends and holidays are particular packed. Here, you will get a chance to see giant crocodiles and receive a few tips from the experts; it's a great place to be.
Bombolulu Workshops and Cultural Center
Bombolulu Workshops is a vibrant cultural centre located off Malindi Road in Bombolulu neighborhood that showcases the African culture to guests who are eager to experience and learn more about African culture. The Association for the Physically Disabled are in charge of the project; they've done a wonderful job bringing culture to the city. If you love tribal dances and performances; this is the place to be.
There are also traditional homesteads that show the diverse Kenyan culture as well as perfectly made souvenirs such as wood carvings, textiles and jewelry. It would be nice to buy something small and contribute towards the upkeep of the centre. A restaurant dedicated to serving Kenyan traditional dishes is also available in the compound. To get here, take a Mtwapa, Bamburi Mtambo or Bombolulu matatu from the CBD.
Jumba La Mtwana
Jumba la Mtwana is a Swahili ruined village tucked away in Kilifi County (Approx 20 km) from Mombasa CBD just past Mtwapa town on your way to Kilifi. The picturesque tourist attraction consists of four houses, a tomb and four mosques. It is evident the village was once lively and inhabited by Muslims. The village touches the shores of the Indian Ocean and extends 250 meters inland. If you need to get out of town, you can visit this magnificent historical site.
The good thing is that it's very near Mombasa CBD (Approximately 30 minutes). From the city centre, take Mtwapa matatus from Digo Rd, alight at Mtwapa and take a tuktuk to the site. The site is about 4km off main Mombasa-Malindi highway and is also accessible with a private car.
Ngomongo Villages
Another place to experience rich tradition and culture is to pay a visit to Ngomomgo Villages in Shanzu. As the name suggests, this Mombasa tourist attraction site focuses on highlighting tradition covering 9 Kenyan tribes represented as complete homesteads with a hut, crops, domestic and wild animals.
The African way of living and how Kenyan communities coexist is best demonstrated by this set-up. Unfortunately, Ngomongo villages is often left out of Mombasa tourist attractions yet it is an interesting and fun place to visit particularly for guests who want to acquaint themselves with Kenyan culture.
Nguuni Nature Sanctuary
Located in Kiembeni, Bamburi; Nguuni Nature Sanctuary makes you forget you're in Mombasa. The Sanctuary's natural vegetation resembles that of a national park such as Tsavo or Amboseli. Nguuni is located 4km from the Bamburi Cement factory junction and therefore within close range to Haller Park. A lot of people come here to relax, have a get-together, celebrate birthdays and weddings and watch animals such as waterbucks, elands, giraffes, ostriches and waterbucks.
The grassland vegetation makes the sanctuary ideal for a game ride especially if you want to explore the deeper sections of Nguuni. A lot of schools visiting Mombasa come here for educational tours. To access with public service vehicles, board Kiembeni matatus from Digo Road. Alternatively, you can also board a Bamburi Mtambo matatu alight at Bamburi Mwisho (Old Malindi road junction) and take a tuktuk or pick a Kiembeni bound matatu. This is a perfect spot for camping and having picnics.
Likoni Ferry and Kilindini Harbor
I know this may not sound like one of Mombasa tourist attractions. However, many tourists especially domestic guests come to the coast excited to enjoy a ferry ride; this is common amongst first time visitors to Mombasa. If you want to have fun, don't go for a ferry ride when its peak hours (7am-9am) or (5pm-7pm); there is usually a lot of human traffic and vehicles waiting to board the ferry.
As you cross the channel, you get the chance to see giant cargo and passenger ships docking at the Kilindini port; the view is breathtaking.
Mombasa Go-Cart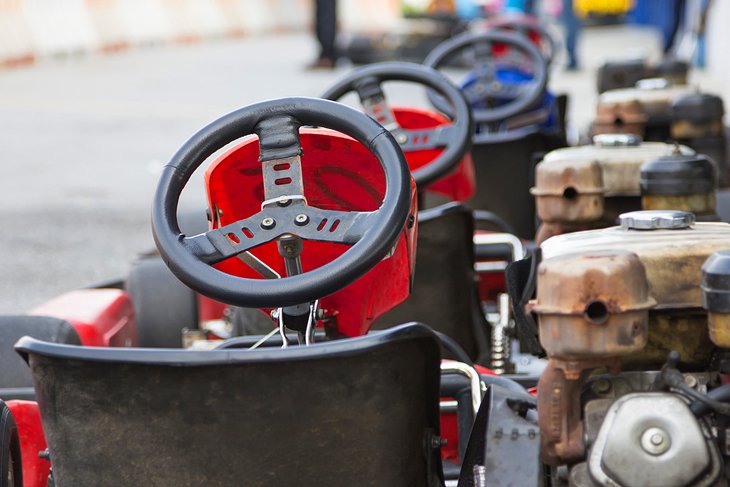 Mombasa Go-Kart is a hit with speedsters and kids of all ages. Zoom around the smooth concrete track in go-karts, bounce around on the off-road buggies, or learn to dig in a Bobcat excavator. After all the excitement, visitors can enjoy a snack at the family-friendly restaurant with computer games, a large playground, and a big screen showing sporting events. The Go-Kart track is floodlit at night.