Local eating in Mombasa is a natural thing. Locals and tourists love to indulge in all sorts of local culinary delights in the restaurants. Well, the humidity in Mombasa tends to increase one's appetite. The local restaurants in Mombasa are original and we can't picture them anywhere other than here.
Here, we share our selection of the best local restaurants in Mombasa, in no particular order. These restaurants are noted for their delicious Kenyan dishes as well as their distinct flavours. No visit to Kenya is complete without having a meal in one of the following local restaurants.
Tarboush Restaurant
Located in the Central Business District area, Tarboush is one of the most popular restaurants for locals and tourists alike. Somehow there's always a memo for International and local tourists, not to leave Mombasa without dining at Tarboush! With a variety of Swahili foods to choose from such as Biryani, Pilau, beans in coconut sauce and the ever famous Shawarma, Tarboush offers you a taste of Mombasa within minutes at a pocket friendly price, which makes it a favourite for many. The service is always slow, and the heat can get to you sometimes while waiting for your meals, but you have to adopt to Mombasa's motto: There's never any hurry in Mombasa!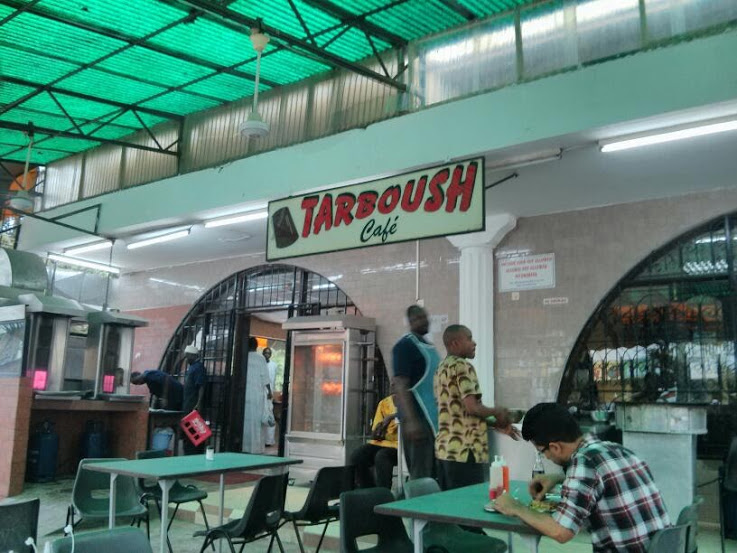 Yuls Restaurant
Located right on the sandy white beaches of Bamburi, Mombasa, the ambiance and the amazing view of the beach makes one feel so at ease. With mouth-watering cuisines to choose from, and fresh seafood that the chefs prepare on charcoal BBQ, you can indulge in a wide range of water sports as you wait for your meal, such as water skiing, jet skiing or surfing or just a walk along the beach and wind down with their ever delicious ice creams for dessert, or sit back and relax with your favourite drink in hand as you release the tensions and concerns for the day. Good service, tasty foods and an amazing ambiance, Yuls has a way of relaxing your mind.
Mikaye Restaurant
Located in Nyali; Mikaye is an Afro-fusion restaurant that specializes in Kenyan traditional foods. The location and atmosphere are just perfect and make one feel so at home. With a variety of Kenyan foods to choose from, one is always spoilt for choice. The decor has a warm feeling to it that makes it ideal for a family night out with the kids. The rooftop has an amazing breeze as you enjoy your meal on a hot summer night. While the service at Mikaye has room to be improved, the food is outstanding and makes a visit here more than worthwhile.
Koroga Country Club
Located in Nyali, Koroga offers a wide selection of sumptuous vegetarian and non-vegetarian dishes, with an Asian fusion to it. The lush green lawns and surrounding trees all around you, makes it an ideal spot for meeting up with friends and family. The uniqueness of Koroga is that you can always hire one of the Bandas, prepare your own meals, have a barbecue and have your own private meet up with friends, just by letting them know in advance. The serene ambiance, friendly staff and privacy makes it an ideal spot for many.
Ali Barbour Cave Restaurant
Located in Diani, on the South Coast of Kenya, Ali Barbour Cave is a unique restaurant. The underground cave is  thought to be up to 180,000 years old. The cave restaurant offers you a once in a lifetime dining experience. With an a la carte mouth-watering menu, you can't help but feel like you have travelled back into time. The starry skies, as the cave opens to the sky, set an amazing romantic tone and atmosphere for this amazing fine-dining restaurant.
Jahazi Coffee House
Jahazi Coffee House is located in the heart of Old Town, a few minutes walk from Fort Jesus. From fresh juices and smoothies as well as tasty bhajias and samosas, this charming coffee house teleports you to Lamu instantly as you indulge in their delicacies. You can relax the afternoon away while sitting down on the floor to enjoy the slow paced life of Mombasa.