Many people have misconceptions about Mombasa that it is a very expensive city to live in or visit. However, that is not the case, there are a lot of affordable things to do and see in Mombasa.
Here, we present to you 30 affordable things you can do in Mombasa without having to break an arm and a leg:
1. Explore Mombasa's Old Town

Known for its heavy historical Arabic influence,  its ancient buildings, amazing architecture with extravagant art designs that teleport you back in time. With various curio shops to choose from, one can get amazing antiques at affordable prices, not to mention unique ornaments, fabrics, fruits and vegetables at such an affordable price. A walk down old town is therapeutic in itself, with the sound of children laughing and playing along the narrow streets.
2. Visit Fort Jesus

The fort was built in 1593 by the Portuguese, but later used by the Arabs as torture rooms, prison cells where slaves were kept in captivity before being shipped away. Now a museum, that is open daily for a small fee. You can also make reservations for dinner accompanied by a sound and light show weekly.
3. Enjoy Nature at Its Peak at Haller Park

Formerly known as Bamburi Nature Trails, Haller Park is ideal for cycling, jogging, nature trails while inhaling nature in all its beauty. With various options to choose from, such as the Game Sanctuary, Reptile Park, Butterfly Sanctuary and bird watching. For only 200 Kshs one can take a leisure walk through lush forests, lakes, streams and plantation and get to be at one with nature.
4. Nguuni Nature Sanctuary Adventures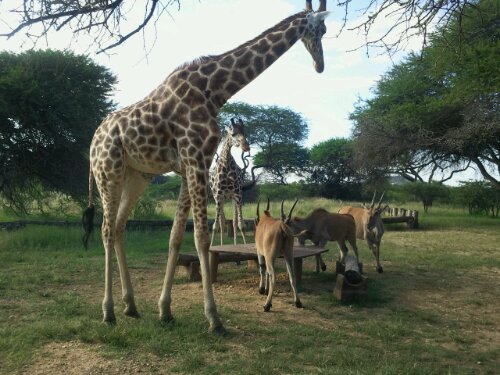 A great place for having a cold drink as you light a campfire, tucked away in the bush while watching the sunset and only had to drive a few miles from Bamburi to enjoy this! Nguuni reserve has giraffes, ostriches, waterbucks and different species of birds to watch while you enjoy your BBQ. For a very affordable amount, you can book a fixed table, bring your own food and drinks as they provide the fire and grill for you while you sit back and enjoy the sunset.
5. Mamba Village Tour
Situated in Nyali, Mamba Village is one of East Africa's largest crocodile farms. With daily tours along the farm and a separate playground for kids to enjoy when they get bored with the tour, makes the farm ideal for a weekend plan, the highlight of the tour is the feeding time when all the blood-thirsty crocodiles fight for food!
6. Head to Go-Kart

Not only home to beautiful beaches, Mombasa has a unique Go-Kart with an African charm to it. Located along Malindi road, just a few miles away from Haller Park, lies Go-Kart with state of the art timing system, as you drive under palm trees with camels, donkeys and turtles off the track. You can also opt for the off- road track where you can hire and drive beach buggies along the beach, while the younger kids explore the excavator park inside the vicinity.
7. Photograph the Mombasa Tusks  & Take a Stroll in the Nearby Park
Situated on Moi Avenue, not much to see or do apart from taking goofy photos while grappling the famous tusks that form an M- shape to show everyone you were in Mombasa. Right opposite the tusks though, there's a park where one can take a stroll while munching on some baobab seeds (Mabuyu).
8. Spend an Afternoon at Mama Ngina Drive

The perfect place to enjoy the Indian Ocean breeze, get a glimpse of ships, coming and leaving the country, the scenic drive at the southern end of the island leading to Kilindini Harbour or if you reach there early enough, get to capture amazing sunrises. There are various restaurants to choose from or nibble away on cassava chips while you soak the enchanting view.
9. Stop in Jahazi Coffee House and Have a Coffee
Located in the heart of Old Town, this charming coffee house is ideal for one to savour snacks, while having a cuppa on a cool afternoon and enjoying the Swahili influence that this little coffee house has to offer for very affordable prices.
10. Try Swahili Dishes at Blue Room Restaurant 
With so many affordable places to choose from, eating out in Mombasa is so affordable. With restaurants like Barka and Swahili Dishes that serve mouth-watering chicken biryani and pilau or if you prefer a quieter place Blue Room Restaurant located in the Central Business District comes in handy as well.
11. Go For a Boat Ride at Tudor Water-Sports and Restaurant
A restaurant with  a lovely view of the ocean, tucked away in Tudor, not only can you enjoy  a quiet meal by the sea, but you can hire a speedboat and go sightseeing. Boat rides are not so expensive if you hire one as a group and get to split the costs. Plus you can always pack a few snacks from the restaurant and beers while you cruise the afternoon away.
12. Relax on Pirates Beach and Enjoy Fresh Seafood

For those interested in a different side of Mombasa, this public beach is never a dull moment. The best time to go is usually very early in the morning when it's less crowded without beach boys harassing you and hawkers trying to sell all sorts of things. If you're fortunate enough though, you can get a chance to buy fresh fish and prawns at a cheap price if you bump into the fishermen coming back with their catch for the day!
13. Wine and Dine at Yul's Restaurant
Located along the sandy beaches of Bamburi, Yul's is an ideal restaurant to wine and dine while enjoying the lovely oceanic view. Famous for their finger-licking ice cream, deep sea diving and boat rides, you can sit back, enjoy and relax with a cold drink in hand as you savour the ambience.
14. Go Eat Some Pizza at Pistachios
Famous for their mouth-watering pizza, and intimate ambience, Pistachios situated in Shanzu is ideal for a pizza date out, especially on Fridays when they have amazing pizza offers and a live band that might allow you to sing along with them if you ask nicely!
15. Go Clubbing
Mombasa's nightlife is like no other and one always has the likes of Bobs, Bella Vista, Sheba and The Lounge to party the night away. From the crazy nightlife in Mtwapa to the more chilled out clubs like Casablanca Club or Bliss Lounge, you're guaranteed a night full of wonderful memories.
16. Go See a Movie or Go Shopping
With different malls sprawling around Mombasa, City Mall and Nyali Cinemax are a few of the major ones to choose from. With state of the art movie theaters and expansive bowling alleys, food courts, clothing stores and supermarkets to choose from, there's something to cater for any budget.
17. Visit Bombolulu Workshop
Bombolulu workshop is a project of the association for the Physically Disabled in Kenya, it's a major tourist attraction with traditional homesteads, get to learn a little bit of the culture in Mombasa. The workshop also consists of traditional restaurants and dances that will keep you entertained.
18. Venture to  Kongowea
Located near Kengeleni, just after Nyali Bridge, it might not be a tourist site, but Kongowea is the best place to get cheap second hand clothes, shoes, fruits and vegetables. As long as one has the patience to endure and rummage through the heaps of clothes and find your way through the crowds, you are bound to get awesome bargains.
19. Explore the Marikiti Market
Situated in town, Marikiti market is the best place to get spices, rich Kenyan coffee, Fruit Tea, explore the busy narrow streets, while you shop for quality khangas and fabrics. Quench your thirst with a glass of sugarcane juice that's freshly made with the vendors on the streets.
20. Head out to Maasai Market
If you're in need of wood carvings, souvenirs for your loved ones or unique paintings for your home, then Masai Market located at Nakumatt Nyali's parking lot is the place to be every Wednesday and Thursday for a unique shopping experience.
21. Walk Along The Beach

Mombasa's shoreline is spread with white sandy beaches, and there's nothing as therapeutic as a long walk by the beach, it helps you clear your mind as you enjoy the cool breeze. One just needs to be mindful of the beach boys who can get quite annoying trying to persuade you to buy whatever they might be selling.
22. Take a Ferry Ride

Photo Source: Abacus
The ferry is a boat service across the Kilindini Harbour serving both the island city of Mombasa and South Coast. The ferry ride is very eventful, you'll see people running to get in, the shoving and pushing that comes with it, the funny characters that choose to entertain people along the ride make the experience quite interesting.
23. Go Cruising in a Tamarind Dhow

The exotic ambiance of Tamarind's floating restaurant, as you watch the sun set while sailing down Tudor Creek. Known for their steak and seafood, The Tamarind offers one quite the dining experience as you sail past the moonlit.
24. Stop at Cafesserie for the Best Kenyan Cofee

Located in Nyali at the City Mall, it is a cozy restaurant with great ambiance, as they serve you the best of Kenyan coffee. Known for their freshly baked bread and sundaes, one can never go wrong with Cafesserie.
25. Take a Road Trip to Kilifi or Malindi

Some beautiful paths can't be discovered without getting lost. Drive down to Kilifi or Malindi, enjoy the scenery along the way, explore sights and sounds, get lost in your own thoughts and discover the beautiful places Mombasa has to offer.
26. Enjoy a Cocktail Drink at Forty Thieves Beach Bar

Situated on the white sandy shores of Diani Beach, less than an hour's drive from Mombasa lies Forty Thieves. The one and only barefoot restaurant where one can kick back relax; savour the ambience, while you kick back with a cocktail as the waves gently lap your toes. Price starts from 800 KES.
27. Go For a Swim

Many hotels in Mombasa have amazing offers on Sundays, you can get to enjoy a buffet and swim for a very affordable rate in hotels such as Nyali Beach, Reef Hotel, Bahari Beach and many more, while relaxing by the poolside.
28. Mombasa Marine National Park

Located in the city of Mombasa, the reserve has plenty of activities to offer. From wind surfing, snorkelling, deep sea diving, sun bathing and many more attractions to see, a visit to the Marine Park is worth the experience. Price starts from 300 KES.
29. Enjoy Great Food in a Fabulous Setting of The Moorings

The Moorings is a floating restaurant located  on Mtwapa Creek with a fantastic setting. Enjoy excellent and delicious food, great scenery with chilly sea atmosphere. You will definitely enjoy yourself if you love seafood. The Price is fair, starts from 600 KES.
30. Take a TukTuk Ride
You can't leave Mombasa without taking a tuktuk ride. Cheaper than taxis, many locals prefer using them and one can always get one just about anywhere. The ride is always bumpy and noisy, but it's one of the exciting ways that makes a trip within Mombasa more enjoyable! Prices depend on where you are going and you can also negotiate for as low as 100 KES.
---